If you're like me, you're really bad about cleaning your make up brushes. I've been told you should clean them once a week. I, on the other hand am lucky if I do it once a month. I recently came across a new tip on how to clean your brushes and it makes the process much easier! All you will need is a little olive oil and a little dish soap (dawn works best). I know you might be thinking "how does oil, clean make up?" Well... one of the principals of chemistry is that "like dissolves like." The best way to clean oil, is with oil... weird right?!? And since most make up is made with oil (especially foundation) its only natural to use a little olive oil to clean it. I have to admit, I was a little skeptical when I started washing my brushes, but this combination worked like a charm! I have never gotten my brushes cleaner with only one rinse! I usually use shampoo and I have to soap up my brushes, rinse, and repeat multiple times... not with the oil! All my brushes rinsed out clean the first time!
Now, onto our blog hop! For those of you new to our blog hop, it's really simple! Please copy and paste our blog hop button to your page (either on your sidebar, or within a dedicated post), then link up your most recent URL. Please feel free to share anything you've been working on lately; from fashion, to food, to fun and everything in between! I personally read each and every one of your links, and I appreciate your support and participation!!
The Rules for the Anything + Everything Link Up:
2. Grab our button and post it within your post, or on your side bar.
(If you do not provide a back link, you will not be able to link up)
3. Visit as many blogs as you can, because after all, that's what a blog hop is all about!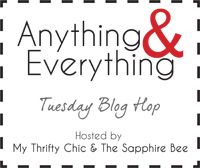 DON'T MISS OUT ON YOUR CHANCE TO WIN A $500 VISA GIFT CARD! IF YOU HAVEN'T ALREADY ENTERED TO WIN, HEAD OVER AND REGISTER FOR OUR

APRIL SHOWERS GIVEAWAY

!!